Maintaining poor posture for a prolonged period can lead to common muscle imbalances known as upper crossed syndrome and lower crossed syndrome, described first by Dr. Vladimir Janda. In these syndromes, there is a pattern of muscles that become relatively tight/short versus muscles that become weak/long. Unfortunately, with ageing, posture tends to decline. That being said, much improvement can be gained from posture retraining and rehabilitation exercises of the involved muscles.
Predisposing Activities Leading to Muscle Imbalance:
It appears that we are living in a flexion-addicted society. What this means, is that people tend to frequently stoop forward. This is seen in office workers and students who tend to sit at a desk for prolonged periods, slouching forward to see the computer screen. Students carrying heavy backpacks also tend to lean forward – the shoulders curve inwards and the head juts forward to counterbalance the load. Reclining on the sofa and driving in one's car, people are frequently in a forward flexed position.
In the above examples, the muscle imbalances are seen between the front and back of the body. It is also possible to see muscle imbalance between left and right sides. Handedness contributes to this phenomenon because the dominant side is used more and becomes stronger. One-sided rotational sports (such as tennis, golf, hockey, baseball…) can also predispose an individual to this type of muscle imbalance.
Consequences of Poor Posture:
Most people don't think about the impact that posture plays on overall health. Many people also don't put two and two together and recognize that posture can be responsible for pain – yet they wonder why they have frequent headaches, neck pain, back pain and fatigue. Suboptimal posture inevitably leads to suboptimal loading of the spinal joints and stress and strain on muscles and ligaments which can contribute to pain and even arthritis over time. Below is a list of common negative consequences of poor posture.
pain in the neck, mid-back or low back

muscle spasm/tightness

decreased range of motion

fatigue

arthritis, due to uneven joint wear over time

increased risk for disc herniation (especially when poor posture is combined with exertion or repetitive flexion)

headaches (including migraines, tension headaches and cervicogenic headaches)

suboccipital pain

teeth clenching & TMJ problems

rib dysfunction

pinched nerves

reduced lung capacity

loss of overall height

poor appearance

reduced balance

reduced performance

poor digestion (due to compression of internal organs)

less energy, poor mood
As seen above, poor posture can impact one's whole body and overall health. How do we correct this? The first step is awareness.

Optimal Posture:
Optimal posture is the posture that minimizes joint compression and shearing forces and minimizes muscle contraction necessary to stand upright. The body can carry the weight of gravity comfortably and efficiently. In general, there are two gentle backward curves in the spine (the cervical lordosis and lumbar lordosis) and a gentle forward curve in the mid-back (thoracic kyphosis). Having these gentle curves aids in shock absorption between joint surfaces as you ambulate. Deviations from normal (either excessive curvature or reduced curvature) can lead to problems. When visualizing the body in the side view, ideally the following structures should line up: the ear, the shoulder, the hip, the knee and the front of the ankle.
Upper Crossed Syndrome:
Upper crossed syndrome is characterized by the following muscle pattern.
Tightness: upper trapezius, levator scapulae, sternocleidomastoid and pectoralis muscles
Weakness: deep neck flexors, serratus anterior, middle trapezius and lower trapezius muscles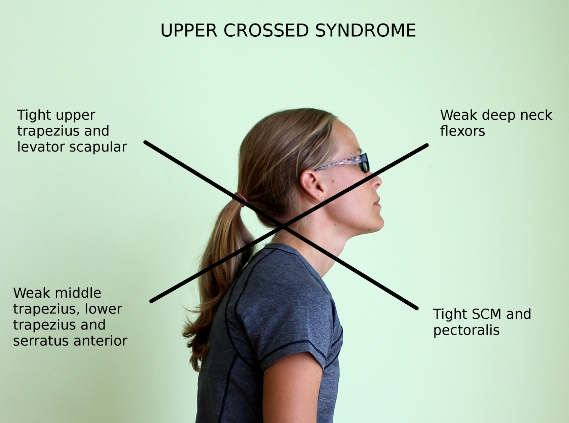 Lower Crossed Syndrome:
Lower crossed syndrome is characterized by the following muscle pattern.
Tightness: erector spinae (thoraco-lumbar), rectus femoris and iliopsoas muscles
Weakness: abdominals and gluteal muscles
Correcting Upper and Lower Crossed Syndromes:
Correcting upper and lower crossed syndromes can be challenging especially if they've existed for a long time. Patience and dedication are required to ultimately correct posture. In some people, posture can't be fully corrected but with the following tips, improvements can be made and further declines can be prevented.
**Note: Poor posture, especially when accompanied with pain can sometimes be a sign of a deeper underlying condition (such as osteoporosis or rheumatological conditions). The following is for information purposes only and does not apply to everyone. Consult with a health professional before beginning any exercise program.
Posture Education: You must understand the importance of good posture and be conscious of your posture as you carry about daily activities. Actively correct yourself.

Avoid Prolonged Postures: If your work requires prolonged sitting, remember to get up frequently and walk around. In other words, take posture breaks at regular intervals. Sit up tall and do the Brugger's stretch.

Stay Physically Active: Overall fitness and endurance helps improve posture and prevent declines. It is also good for overall health.

Corrective Exercises: Specific exercises to target the involved muscles are important. In general, tight/short muscles must be stretched and weak/long muscles must be strengthened. Endurance is just as important as strength.
How Chiropractic Helps with Posture Syndromes:
Chiropractic care plays an important role in diagnosing and correcting postural problems. Chiropractic care helps relieve pain, improve flexibility, improve joint function and improve muscle balance. Chronic poor posture can lead to pain and arthritis. Muscle imbalance can lead to joint dysfunction and poor spinal alignment. Chiropractic care involves manual therapies to help put the body into better balance both mechanically and neurologically. Chiropractors can also prescribe exercises to balance the muscles and facilitate recovery and provide other holistic advice. Postural problems and related joint dysfunction do not appear overnight and will not disappear overnight. These issues require a program of care and dedication on the patient's part too. Combining passive chiropractic treatment with home exercises leads to the best results.
Preventing Spinal Injuries:
Having good posture as you carry about your daily activities plays a critical role in prevention of spinal injuries. Having a strong core is also important.
Dr. Elisabeth Miron
Please visit Dr. Miron's website: www.MironDC.ca
Didn't you LOVE this article? Click the facebook "like" button or share it with your friends!