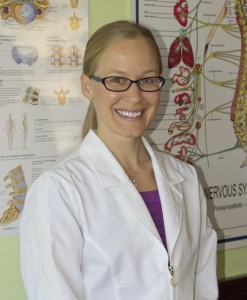 Dr. Elisabeth Miron is a chiropractor in Aurora and owner of a family practice.  Dr. Miron attended the Canadian Memorial Chiropractic College graduating Cum Laude with Clinic Honours and the CCR Clinical Radiology Proficiency Award. Prior to this, she completed an undergraduate education at York University, graduating with honours.
As a family chiropractor, Dr. Miron provides care for a diverse group of patients of all ages.  Whether you are an overworked office worker with back tension and headaches, an injured athlete, a student with poor posture or have arthritis, she would like to help you optimize your physical abilities, retain resilience and feel better overall.  Dr. Miron has a patient centered, comprehensive approach to patient assessment and care. She provides the appropriate advice and care to accelerate your healing abilities and get you back to doing the things you love.
Dr. Miron has a philosophy of lifelong learning for personal interest as well as for the benefit of her patients.  One of her most unique and rewarding experiences was participating in the April 2010 Chiropractors Without Borders (CWB) mission to the Dominican Republic to offer chiropractic diagnosis and treatments to the needy and underprivileged.
As a recreational cyclist, golfer and tennis player, Dr. Miron has always enjoyed being physically active.  She encourages her patients to do the same because exercise along with chiropractic, good nutrition, rest and a positive outlook are all important aspects of a healthy lifestyle.
Dr. Miron is a member, in good standing, with the College of Chiropractors of Ontario.  She is also a member of the International Chiropractic Pediatric Association, the Ontario Chiropractic Association as well as the Canadian Chiropractic Association.
If you are looking for a chiropractor in Aurora, Ontario, call Dr. Miron to find out more and book your appointment.
Please visit Dr. Miron's website!